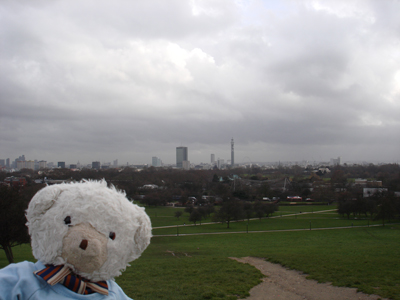 Primrose Hill is a park on the north side of Regent's Park in North London. It has been a couple of years since I visited the park. The hill has a wonderful view of central London. It overlooks Regent's Park and London Zoo.
The aviary for London Zoo can be seen in foreground of the picture beyond the path. Centerpoint on Tottenham Court Rd., London Telecom Tower (formally BT Telecom Tower) on Cleveland St., and the Millenium Eye on the South Bank can be seen in the distance.
You might recognise the park. It was in the films Bridget Jones: Edge of Reason and Maybe Baby.